---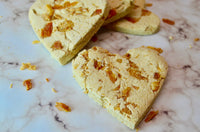 Chicken & Brown Rice Kookies for Dogs
These simple but "hearty" treats are handcrafted in small batch in our own NYC pet bakery. Infused by rich chicken broth, and loaded with chunks of our famous crunchy chicken brittle, texture complemented by delightful crunchiness of pure meat chips. these kookies are healthy and delightfully crunchy.  

Crunchiness Factor: Medium-Soft

Bow-Wow Factor: Chicken is a natural source of high-quality proteins and essential amino acids, vital for your dog's health. Brown rice are a rich source of fiber, minerals and vitamins B and D that are essential for dog's good health.
Ingredients: Brown rice flour, chicken breast, chicken broth. 
Guaranteed Quality: 100% local meat, 100% human-grade, 0% antibiotics or hormones, 0% preservatives and 0% artificial colors