---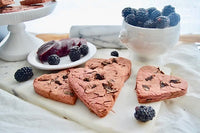 EMUzing (Emu Meat Chip) Kookie for Dogs
Treat your doggy to an EMUzing kookie! Handcrafted at our own bakery in Brooklyn,
these 100% grain free dog treats are made from organic chickpea and coconut flour, infused with rich emu meat broth, beets and blackberries, and loaded with chips of emu meat brittle.
Our emus are sustainablly raised in upstate New York! Unlike poultry birds, emus have red meat, which is much higher in digestible protein, vitamins A,B,C,D,E, iron and potassium than beef or poultry.

Ingredients: chickpea flour, coconut flour, emu, beetroot, blackberries.