---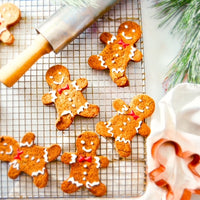 Gingerbread Kookie for Dogs (Holiday Special!)
Shaped as a gingerbread man, these 100% grain free and gluten free dog treats are a sure way to win the heart (and belly) of even the pickiest dogs. Handcrafted in small batches in our own NYC bakery. 
Limited holiday edition. 
Crunchiness Factor: Medium-Hard

Bow-Wow Factor: Chickpeas are a rich source of protein, potassium, magnesium, and folate, essential elements for good health and cell recovery. Coconut flour is high in fiber which is great for gastrointestinal health, reduces the absorption of sugar and lowers cholesterol. Ginger is a nature's anti-viral and anti-toxic herb that promotes blood circulation, lowers blood pressure and flushes out toxins . Black molasses are a natural source of calcium and iron that are great for dog's bones and blood. 
Ingredients: Chickpea flour, coconut flour, black strap molasses, organic ginger. 
Guaranteed Quality: 100% local meat, 100% human-grade, 0% antibiotics or hormones, 0% additives or preservatives
Guaranteed Analysis: Crude Protein (min) 29.5%, Fat (min) 15.3%, Fiber (max) 53%, Moisture (max) 11%