---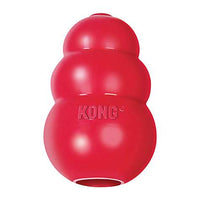 Kong Classic Dog Toy
The gold standard of dog toys, this simple yet amazingly effective toy is perfect for dogs who love the challenge. Made from utra-durable all-natural red rubber, it is also an ideal match for dogs that love to chew. Add awesome unpredictable bounce effect - and you doggy is in play for hours!
Perfect for dogs with separation anxiety, hyper-active dogs and dogs that get easily bored with traditional toys.
This toy is a perfect math for Little L's treats. For more fun, try stuffing it with bits of Little L's meat brittle or mix of peanut butter and Little L's krumbs. 
Made in USA.
Sizing Guide:
X-Small: dogs up to 5 lbs
Small: dogs up to 20 lbs
Medium: dogs 15-35 lbs
Large: dogs 30-65 lbs
Every dog plays differently and, since not all toys are created equal, it's always best to keep a close watch on your pup in case things get ruff. Supervised play will help toys last longer and most importantly keep your pal safe. No dog toy is truly indestructible, so always remove the toy from playtime if pieces begin to break off. For power chewers: increase one or two sizes.